BolivarJetty_9883-web-slider
Galveston County Committees
Communications Chairman
Andy Mann, Communications Chairman
Andy.M.Mann@gmail.com
Education and Outreach Committee Chairman
Get Out the Vote Committee
Gabriel Allen, Chairman
GCRP152@gmail.com
Rules/Resolutions/By-Laws Committee
Linda Liechty, Chairman
Precinct Vacancy Committee
Loretta Roberts, Chairman
Lo.n.kemah@gmail.com
(281) 334-3492
Lifelong Republican
Delegate RPT State Conventions
Delegate TFRW State Conventions
SD11 Credential Committee
2021 GCRP Lincoln Day Dinner
TFRW Deputy President
Past Clear Creek RW President
League City Ethics Board
League City Charter Review
FUMC Church Council FUMC Member
Stephen Minister
Precinct Chair Training
Donald R. Pollock, Chairman
d.r.pollock1944@gmail.com
Upon retirement in 2012, became active in the local Republican Party:
Delegate to Galveston County, and Texas State Conventions 2016, 2018, 2020, 2022
Election Judge during Primary and Runoff elections 2018, 2020, 2022
Delegate toNational Republican Conventions 2020.
2020 Treasurer of the Galveston County Republican Party
2019 President of the Mid-County Republican Networking Group.
2019 Participated in Meet & Greets and other rallies for local candidates.
2019 Co-Chair for the National Federation of Pachyderm Clubs, National Convention.
2019 Received the "Outstanding Contributions" award from the Galveston County Republican Party.
2018 Precinct Chair for Precinct 150.

Participated in Block walks, Meet & Greets and 

other rallies for local candidates 2012, 2016, 2018.

2017 Became active in the Convention of States Project.

2017 Past Region 

Captain for Senate Districts 4, 11 and 15.

2017 Testified before the State 

House Committee April and went to be one of the 280 COS people in the 

House Gallery, when Texas became the eleventh states to pass a 

Convention of States Resolution.

2016 Worked at a polling place during early 

voting.

2016 Participated with the Mighty Texas Strike Force block walking in 

Colorado for the week before the national election.

 

2013 to Present, Treasurer for the Mid-County Republican Networking 

Group.

2014 Worked for the re-election of Congressman Randy 

Weber and election of State Representative Wayne Faircloth.

2014 Participated 

in Block walks, handed out literature at polling places during early voting 

and Election Day.

2012 Volunteered at the Galveston County Republican 

Party headquarters. 

2012 Received the "Rising Star" award from the Galveston County 

Republican Party.
Scholarship Committee
Devon Lovelady, Chairman
Election Integrity
Dave Wilson, Chairman
Candidate Evaluation and Recruitment
David Smith, Chairman
Finance and Capital Campaign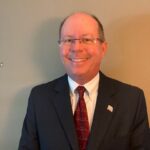 Bill Hoffman, Chairman
Bill Hoffman and his spouse Kay have been residents of Friendswood since 1986, raising a family of 3 boys
Career at NASA in Engineering Directorate with an early retirement in 2013 as the Chief, Propulsion and Power Division
Registered Professional Engineer in Texas and Louisiana
Active in the Knights of Columbus at Mary Queen Catholic Church in Friendswood and Sailing Angels Foundation in Kemah, Texas
Chair of Precinct 492
Currently serving on the Galveston County Republican Party Finance and Capital Campaign Committees
Interested in volunteering or joining a committee, contact us here.